THE ROMANTIC SIDE OF CASCAIS



For those who haven't thought about what they're going to do on the most romantic day of the year, the answer is simple: Cascais. A charming village that has a lot to offer for couples, stunning landscapes and much to visit.

Find out some of the activities you can do with your significant other and have a nice day for both of you.

What to do on Valentine's Day in Cascais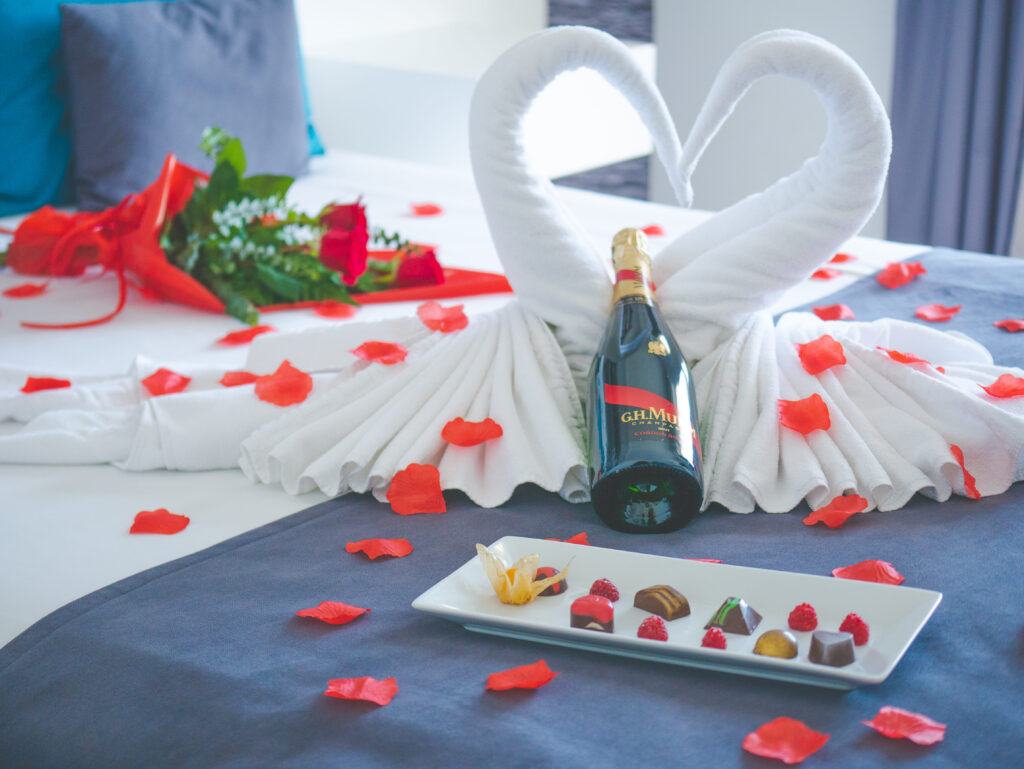 Taste the sweetest taste of love
For those looking for the sweet side of love, you cannot miss a visit to Gelados Santini. A classic ice cream brand, created by Attilio Santini in 1949, which has become inseparable from life in Cascais. In the village you can find a Santini store right next to Hotel Baía, ready to serve any couple looking for the best ice cream in the world.
The ice cream flavors available vary daily and are characterized by having only ingredients of natural origin, without aromas, colorings, preservatives or thickeners. And for those who don't like ice cream during the winter, they also have other hot options, such as waffles and cakes.
There is also another Santini ice cream shop in the village, more precisely on Avenida Valbom, which is the oldest store in operation, and another in Carcavelos next to the brand's factory. If you are not close to Cascais, the taste of the village can also come to you: Santini ice creams have other stores also in Oeiras, Lisbon and Porto.
Sunset tour
If you've already gone to get your ice cream, now you can go for a walk by the sea hand in hand, watching the waves and the sunset reflecting in the sea. Walk along the Cascais-Estoril Wall and enjoy the fresh air, take some pictures or simply soak up the moment.
It is a setting worthy of a Nicholas Sparks novel, which can be experienced at any season of the year in Cascais.
Picnic on the beach
If you were blown away by the scenery, why not stop by and have a picnic on the beach? It brings together the best elements for a memorable day: romanticism, originality and a good view.
Cascais has excellent beaches that offer plenty of options for couples, even during winter. By the way, whoever says that Cascais is only worth it in the summer has clearly never visited it in the winter.
At Hotel Baía we also have special picnic menus available. To reserve yours, simply contact us on +351 214 831 033.
Romantic nights at special prices
A couple in love deserves all the happiness. That's why Hotel Baía has special offers to have a different Valentine's Day, worthy of such a romantic village as Cascais.
S.Valentine's Offer – 1 Night Stay with Dinner
Room with Sea View
Romantic Decor
Sexy Red Wine – Alentejo
Chocolate cuddles
Dinner at Baia Restaurant
Price for two people: 180€
Offer valid between the 11th and 14th of February
Valentine's Day Offer – 2 Nights Stay + Dinner
Room with Sea View
Romantic Decor
Sexy Red Wine – Alentejo
Chocolate cuddles
Dinner at Baia Restaurant
Access to the Indoor Pool
Price for two people: 270€
Offer valid from 11 to 14 February
If dinner is on your own and you're just looking for a romantic getaway, Hotel Baía also has a solution.
Room with Sea View
Romantic Decor
Sexy Red Wine – Alentejo
Chocolate bonbons
Price for two people: 105€
Offer valid between the 11th and 14th of February
Discover our Valentine's Day packages here