We are still at the beginning of the year and we already have an idea of ​​what we expect for what is yet to come. We define goals to achieve, programs we want to fulfill, places we want to visit. Well, at Hotel Baía we are prepared to help you meet these goals.
Read below how you can have the year you want in Cascais:
More time for yourself
Take time to do what you like. Whether with or without company, leisure periods help us relax and be happier – especially when we take advantage of them to do what we love most.
Enjoy our Golf Package for 4 to 6 nights, with a passport to some of the best golf courses in the Greater Lisbon area and stay in a city view room (with free upgrade to sea view, subject to availability).
Alternatively, and if golf is not your preferred leisure plan, you can take advantage of our 4=5 nights offer until the end of March, and enjoy the countless other activities that Cascais has for you.
More moments for romance
Edith Piaf already sang, everything is happier with la vie en rose. And at Hotel Baía there is no shortage of reasons to make life as a couple even pinker, with brunch every Sunday between 12pm and 4pm.
And if you are looking for an even more breathtaking plan, we have the Romantic Moments stay especially for you, with a sea view room, romantic decor, sexy red wine and chocolates. It's the perfect opportunity to surprise your better half.
And Valentine's Day is almost here…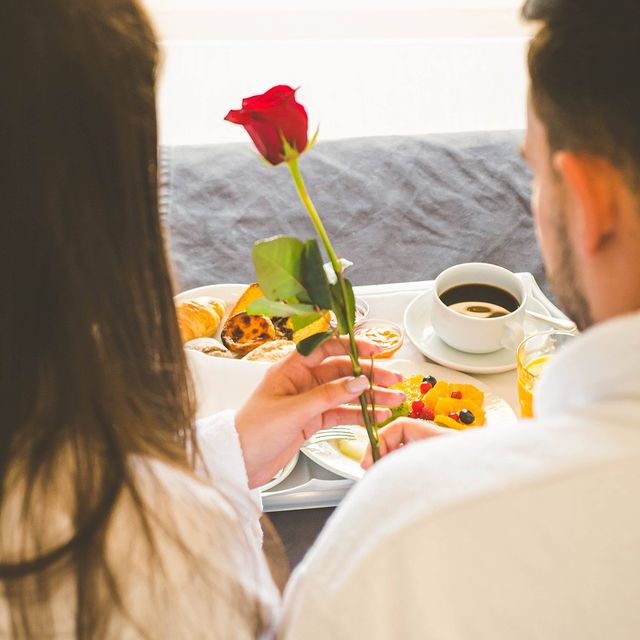 Party with friends
There's nothing like having a good time with friends, sharing stories and laughter, advice and debating the latest news between snacks and a refreshing toast.
Come to Hotel Baía every Wednesday, during Happy Hour (6pm-8pm), to get a 20% discount on any drink. And better than this plan, only Thursdays Friend's with 4.50€ Bica Gin Tonic and a snack menu to share in the best company.
Be productive with a breathtaking view
Starting the year off on the right foot in the workplace is halfway to a productive year as a team. At Hotel Baía we set the tone and are at your disposal to host corporate events with our Meetings Package, available until the end of February from €50 per person, including a meeting room, lunch and two coffee breaks.