We have arrived at the time of year when magic happens and let ourselves be carried away by the welcoming spirit of Christmas. So that you can enjoy every moment, we have a list of suggestions for you to enjoy this festive season always in the company of Hotel Baía, where you can enjoy the IVAucher campaign until December 31st.
Corporate Christmas
Cascais already has Christmas decorations and is worth a visit. With family, friends or co-workers, what matters is getting into the Christmas spirit, so if you haven't booked your company's Christmas dinner yet, Hotel Baía has menus available for you to make an appointment. You just need to dress up. If you want to schedule a corporate visit, the Meetings Package is also available, which has a double room and meeting room, lunch and coffee breaks, from €50 per person.
Traditional markets for kids and adults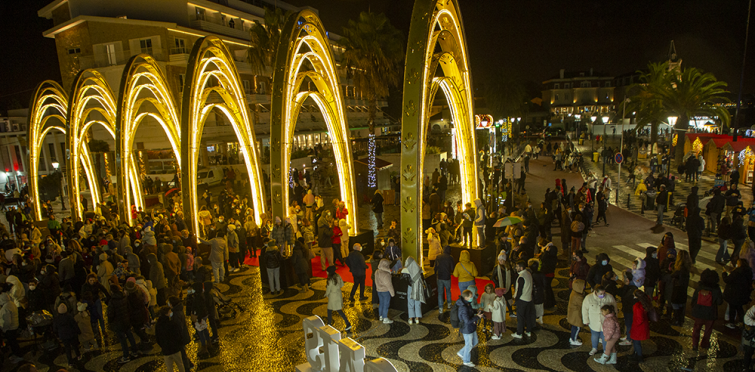 If you haven't bought all your gifts yet, traditional markets are a great option to choose handcrafted gifts made with all your dedication. Cascais, Alcabideche and Carcavelos are the places where you can find the Christmas markets and do some shopping, but not only that. You will also have the opportunity to try delicious street food and let yourself be carried away by the flavors that emerge every second. If you want to entertain the little ones, there are also several carousels available that promise lots of laughs and fun. So that you can enjoy all the attractions that Cascais has to offer, we suggest our 5=4 pack, from €55 per night, in which you will enjoy all the days you need to enjoy the Christmas season in the best way possible.
Christmas lights and Ferris wheel: is there a prettier ride?
Streets decorated with Christmas lights and pine trees lit with a star on top are two must-haves at this time. As it could not be otherwise, the town of Cascais is already lit up to perfection and is ready to welcome you. But your tour doesn't stop there. Finish off in the best possible way with a ride on the Ferris wheel installed in the Gardens of Casino Estoril and enjoy the wonderful view over the Cascais municipality. Enjoy this visit to Cascais with your better half and enjoy the Romantic Moment, available from €105, which we have available so that you can surprise those you love the most.
Christmas parade for Cascais Community
To maintain all security in the face of the delicate moment that the world is going through and to avoid too many crowds, several Christmas parades are scheduled, in which Santa Claus and all his assistants travel on a train through the parishes of the county, thus visiting all children and adults . Knowing that waiting for Santa Claus requires energy, Hotel Baía offers you the opportunity to enjoy a delicious Brunch available every Sunday between 12:00 and 16:00, so you don't wait for the parade with an empty stomach. See here the schedules and routes of this Christmas procession.
Christmas with friendship
The Christmas season can and should also be lived with friends. Knowing the importance that friendship has in each one's life, Hotel Baía created the Thursday of Friends, days when you can share snacks and cocktails on the terrace of our Hotel or, if you prefer, you can also enjoy the Happy Hour and Wednesdays enjoy -20% on the value of drinks. The important thing is to keep the Christmas spirit, so invite your friends for a fun day and take them to the charming village of Cascais.
And after Christmas?
Once you have the perfect house to receive all the guests, cook all the dishes and wrap the presents, it's good to enjoy a moment of rest and leisure doing what you like most. Thinking about you and your rest, we offer Golf Packages, from €255 per person, available until February 28, which will provide you with the greatest comfort and tranquility.