In the middle of a pandemic, only love can save us. To keep the flame burning and health safe, there are only two options that are really worth the most romantic day of the year: making homemade surprises or booking a night of complicity and enjoying Valentine's Day in Cascais. The important thing is that love saves everything and will also give a special shine to this Valentine's Day.
Did you know that this Sunday, February 14th, there are even more celebrations and reasons to celebrate Valentine's Day in Cascais? In addition to being the day we all know, it is also known as the day of love, and it is here that you can embrace this opportunity to spend a different day. For singles, married, living together or whole families, a special night in a hotel always brings good memories. And if your children ask why the towels are heart-shaped, you can always say that the love of parents for children is the greatest love of all.
This Valentine's Day, in 2021, still has a special burden for being World Wedding Day. And no, it is not related, it is just a happy coincidence for the day that is always celebrated on the second Sunday of February. So, whether it is a recent passion or a wedding that has passed the silver anniversary, a romantic night away from home is always a good declaration of love. And where can you spend this day? We suggest that you enjoy Valentine's Day in Cascais, because although you cannot take long walks, you can always choose a hotel with a balcony and sea views. Nothing better than falling asleep and knowing that you will wake up to a beautiful landscape.
Hotel Baía has prepared a special package for lovers who want to celebrate Valentine's Day in Cascais and have irresistible offers. Will you be seduced by any of them? Bonbons in bed, VIP service in the room, wine to share at sunset .. it's just the beginning of your romantic Valentine's Day in Cascais.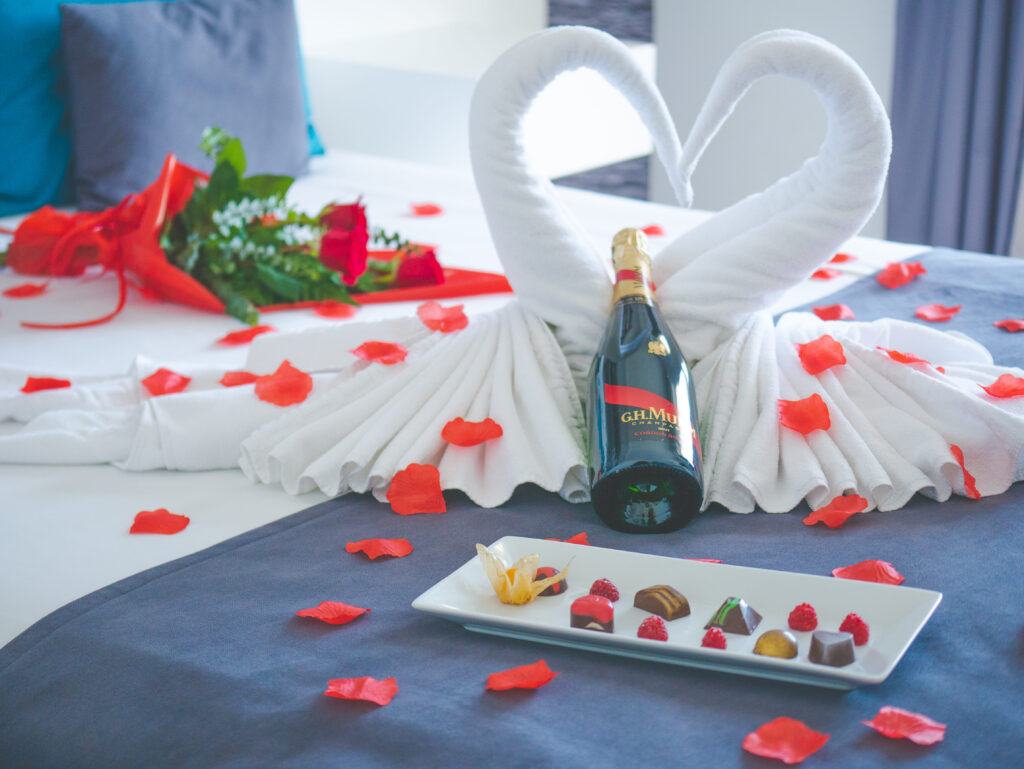 And while you think about it, do you know the origin of this day? Do you know who Valentine is? It was someone very passionate about the idea of celebrating love between couples. The story is old, dating back to the 3rd century AD, but it is a real tribute to the love we still celebrate today. Get ready to want even more to celebrate this Valentine's Day in Cascais!
February 14th was the day Valentine was executed at the emperor's orders. It was a sad date that originated the day that we see today as the most romantic of the year, where billions of people declare eternal love and so many risk marriage proposals. Let it be said in passing that gaining courage and enjoying Valentine's Day in Cascais for a marriage proposal is always a valiant tribute to Saint Valentine, but let's go to history.
At the time, Emperor Claudius II banned marriages because he thought that single men performed much better in each battle, when compared to married men. It was then that, in order to safeguard his army's power at the expense of love, the emperor forbade Valentine to celebrate weddings. Valentim was the "matchmaking saint" of the time. However, Valentine disobeyed orders and continued to defend love, celebrating marriages between couples in love. This was his sentence, it was disobedience in the name of love that led to his execution. Be as brave as Valentine, put love first and surprise your special person with a very special Valentine's Day in Cascais.
The tours that we can do today are small, around the block, the famous hygienic tours. This weekend, think differently and come for a walk by the sea, making the hotel your home for a few days. You will see that it will be worth celebrating Valentine's Day in Cascais. You don't need to ask anyone to marry you, maybe you're already married, but this is a surprise that you always know well.
Don't let love go into confinement and celebrate this special occasion with a room by the sea. We know that the most important thing is always the company, but having a pleasant landscape also fills our hearts.