Preparations are already underway and the mythical New Year's Eve in Cascais is no exception. We live in days of great uncertainty about the celebrations of this date for the reasons that we all know, but it is no reason not to dream of a smiling 2021. While everyone prepares carefully for an unforgettable night, Hotel Baía is no exception to the rule with special packages and attractive moments.
The trend for the next New Year's Eve is towards intimacy, with fewer parties but with a lot of love to share. With this in mind, Cascais becomes an unforgettable destination, as it offers the fullness of sunny days with calm nights by the sea. Walks on the beach, in the historic center, in the parks or in the Navy will always be a pleasant choice for the New Year in Cascais.
With the first day of the year on a Friday, you have the perfect excuse to enjoy life with the calm you need so much. 1, 2 or 3 nights are the most common offers to start the new year in the comfort and hospitality you deserve, without worrying about any details. To live the New Year in Cascais is to start 2021 on the right foot.
In front of Hotel Baía, and with a street full of palm trees that make up the scene, it has the ideal place to catch a glimpse of the fireworks that will be prepared. With the impossibility of celebrating this new year on the street, nothing better than a window looking out over the sea to see this beautiful light show.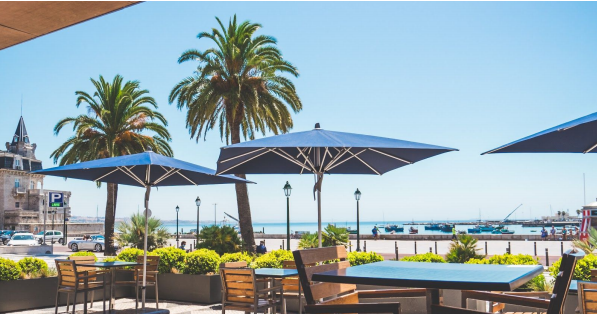 Wherever it is, the important thing is that it is a happy night and that it may be the renewing of energies for the year ahead. New Year's Eve in Cascais has everything you want, with a great variety in cultural, landscape and, of course, gastronomic offer. All of this with the sea always at our side will be really a must.
Enjoy the good side of life and enjoy New Year's Eve in Cascais with special offers at Hotel Baía. Dinner, champagne and the first brunch of the year by the sea. Do you want to find the best offer for you? Discover here your temptation to end 2020 as you deserve.
The village is already excited to welcome you. Being present on New Year's Eve in Cascais will be a must. Bring your camera to record all the moments. Train your talent and start dreaming of another beautiful photo album, to save, frame or offer to the people you care about most. Cascais awaits you!