While taking advantage of the summer to discover the best that Portugal has to offer, we naturally speak of Cascais. It is the perfect symbiosis between beach and city, with the best of both worlds and incredible landscapes to enjoy your holidays in Cascais and create an album full of photographs. Your journey begins in the center of the village, next to the Hotel Baía, which is a viewpoint for the refinement of the palaces and the beauty of the beaches.
Before landscapes, viewpoints and sunbathing, your holidays in Cascais begin with a journey through typical gastronomy and local shops with 2 landmarks that you will not want to miss. At Mercado da Vila, you will find an appetizing variety of styles and cultural fusions that are inspired by tradition to reinvent the gastronomy of the region. You will also find some stores of Portuguese origin and manufacture, with gifts and souvenirs that will enrich the decor of your living room. Enjoy and choose something lasting as a souvenir of your holiday in Cascais.
The same happens at Casa da Guia, where the offer is even richer, both in trade and gastronomy. Your holidays in Cascais are even better with ice cream and açaí bowls, seafood and meals inspired by the sea. All of this is at Casa da Guia, which is by the sea and from where you can see the silhouette of the Cascais coast. The moments of relaxation to live your holidays in Cascais start here, in this unmissable landscape, but quickly also become a cultural experience in museums and exhibitions, which both tell the history and the present of the seaside village.
From culture to gastronomy, discover the best for your holidays in Cascais
The Cidadela Palace in Cascais sets the tone for a walk among the various statues of historical figures: Pope John Paul II, Luís Vaz de Camões, D. Pedro I or D. Carlos I. It is a short, but intense journey through the history of Portugal. When so many kings and princes of the world chose Cascais to stroll or live, the glamor and sophistication could only be evident throughout the landscape. Your holidays in Cascais should always include the House and the Lighthouse of Santa Marta, the Library Museum of the Counts of Castro Guimarães, Museum of the Sea King D. Carlos, Cascais Cultural Center, among many other places of reference to absorb the history and village culture.
For visitors with a cosmopolitan spirit, this is the side of Cascais that will win the hearts of tourists. You will feel like the kings and queens that once walked these streets, but the trip is more balanced when there is a good dose of beaches that fill the cards and itineraries of those who visit this area of ​​Portugal.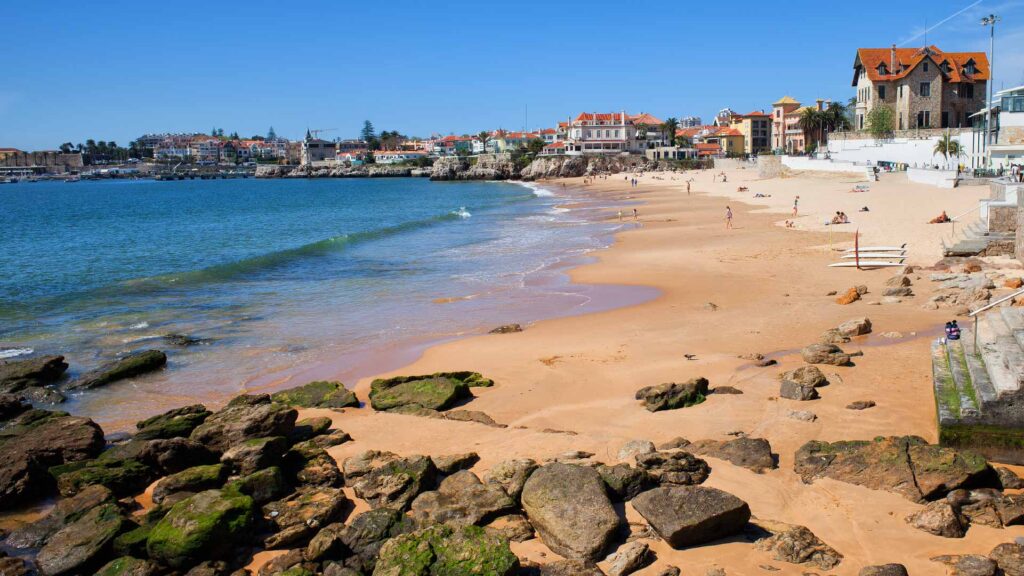 From small beaches and calm seas to wild landscapes and challenging waves, Cascais has a little bit of everything to enrich your vacation. It is difficult to choose the best beaches in Cascais, but you are sure to find one to your liking.
For peaceful sunbathing and diving in a calm sea, choose Praia dos Pescadores (in front of Hotel Baía), Conceição beach or Duquesa beach. For your holidays in Cascais to be even better, we highlight Praia da Duquesa, where you can also venture into a SUP experience. Do you know what it is? It is a stand-up paddle, a board that challenges your balance and motor coordination. Choose your classes at Surfnpaddle / Surf & Paddleboard School Portugal and tell us how it went in the comments. One thing is for sure: it will be a fun time and a story to tell whenever you remember these holidays in Cascais.
Walking days and adventure days, anything is possible in Cascais, especially if your adventurous spirit is receptive to some surf lessons at Guincho beach, with big and small waves, always touched by the characteristic wind of the region. Cascais is a mix of elegance and adventure, history, refinement and the sea. It is a passionate place that will have to be part of your next vacation itinerary.